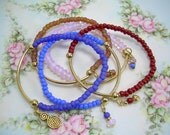 A fun way to wear lots of bracelets which is all the rage now, The more the better!
I call them Jangles as they all float around and jangle together.
Each bracelet is strung on jewelry elastic for strength and durability and you can wear one or all five
the set includes purple,pink,amber,maroon and periwinkle with little bead charms on each bracelet with gold plate bars and beads!...
Click Here to Visit My Etsy Shop!