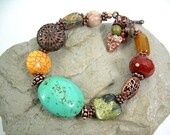 Fun Copper and gemstone bracelet designed with Turquoise, Jasper, Unakite, Carnelian, Yellow Turquoise, Chalcedony and wonderful copper beads.
This bracelet is just shy of 8" with great copper toggle clasp
Gemstone and copper charms hang off the clasp to catch the eye.
The colors in this bracelet are awesome and just right for any season of the year but you will...
Click Here to Visit My Etsy Shop!