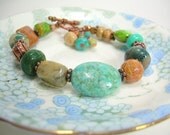 Gemstones and copper come together to form this beautiful bracelet with rich earth colors. With a southwest flavor.
There is five different kinds of Jasper,Turquoise,Yellow Turquoise, Chalcedony,River Stone and copper beads.
A wonderful bold bracelet with gemstone charms attached to the copper toggle clasp!
Bracelet is a bit over 7.5 inches.
Come visi...
Click Here to Visit My Etsy Shop!