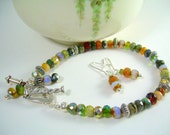 Elegant Picasso and sterling silver bead bracelet with matching earrings with rich fall colors.
Delicate Feminine bracelet with faceted Picasso beads and tucked in-between little sterling silver saucers in beautiful vibrant colors that will take you through all of the seasons and with everything in your wardrobe.
Check out the fun little bead and silver charms on the clasp!
Click Here to Visit My Etsy Shop!