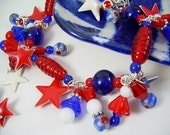 Happy 4th of July! Celebrate with this fun charm bracelet. Just the thing for the holiday season designed with Czech glass beads and dripping with all sorts of fun glass beads and enamel stars in red, white and blue.
A pair of matching earrings make this set one that will be fun to wear in July and anytime you need a bit of old glory!
This bracelet is just shy of 8" with a pewte...
Click Here to Visit My Etsy Shop!