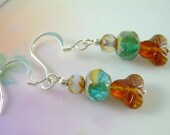 A unique pair of earring with the coloring of sea water on a stormy day!
Picasso aqua blues,cream and amber with sterling beads that change in the light for awesome effects!
Earrings are 2inches long from the top of the silver ear wires
A Bold and beautiful pair of earrings!!!
For more beautiful jewelry come visit Jewel Fire Designs Shop on Etsy
http:...
Click Here to Visit My Etsy Shop!